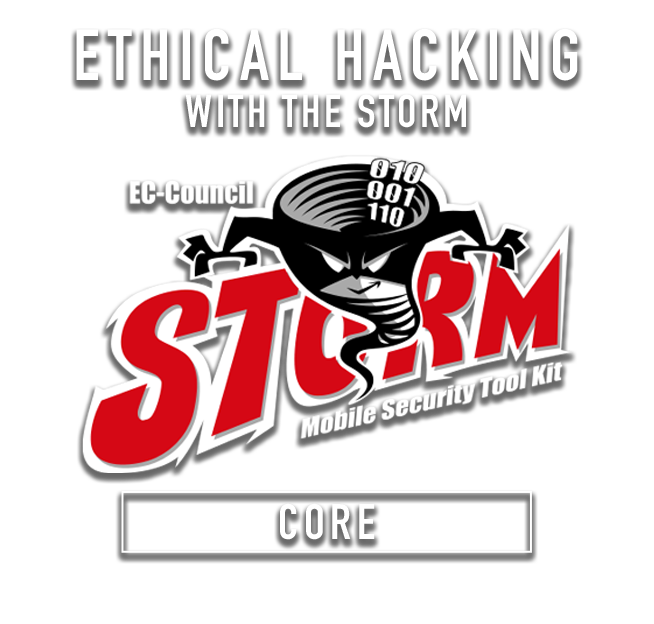 Talk to a Career Counselor
Fill out the form and an expert training consultant will contact you to help you get all your questions answered.
STORM Mobile Security Toolkit: Ethical Hacking Core Skills
The course content was derived by pulling carefully selected modules from EC-Council's Certified Network Defender (CND) and Certified Ethical Hacker (CEH) certification courses to create the most comprehensive one-day ethical hacking workshop available. Students will learn how to navigate their new STORM – Mobile Security Tool Kit as well as the most important aspects of Ethical Hacking. The learning doesn't stop when the workshop ends because each student will have 1-year access to the associated e-book and 6 months access to the iLabs, EC-Council's online labs platform.
On
Demand
On Demand Instructor-led Training Videos

Official E-Courseware

Online CyberQ Labs

Certificate of Completion

One Additional Certification Course Included

Live Instructor-led Training (in-person or online)

Online Exam Prep (CEH, CHFI, CND Only)

Certification Exam

CodeRed Continuing Education Video Subscription

*Financing Available (US only)
Unlimited On Demand
(Club)
On Demand Instructor-led Training Videos

Official E-Courseware

Online CyberQ Labs

Certificate of Completion

Live Instructor-led Training (in-person or online)*

Online Exam Prep (CEH, CHFI, CND Only)

Certification Exam

Unlimited Additional Certification Course Included

CodeRed Continuing Education Video Subscription

*Financing Available (US only)
*Upgrade any course to live training for $499