Certified Incident Handler | ECIH
The EC-Council Certified Incident Handler (ECIH) program focuses on a structured approach for performing the incident handling and response (IH&R) process. The IH&R process includes stages like incident handling and response preparation, incident validation and prioritization, incident escalation and notification, forensic evidence gathering and analysis, incident containment, systems recovery, and incident eradication. This systematic incident handling and response process creates awareness among incident responders in knowing how to respond to various types of security incidents.
Cybersecurity Professionals interested in pursuing incident handling and response as a career require comprehensive training on the IH&R concepts as well as real-world scenarios. The ECIH program includes hands-on learning delivered through iLabs, online labs within the training program.
Suggested career path only, courses can be taken independently, and the order is not fixed.
Course Outline
Module 01: Introduction to Incident Handling and Response
Module 02: Incident Handling and Response Process
Module 03: Forensic Readiness and First Response
Module 04: Handling and Responding to Malware Incidents
Module 05: Handling and Responding to Email Security Incidents
Module 06: Handling and Responding to Network Security Incidents
Module 07: Handling and Responding to Web Application Security Incidents
Module 08: Handling and Responding to Cloud Security Incidents
Module 09: Handling and Responding to Insider Threats
Who's it For?
The incident handling skills taught in ECIH are complementary to the job roles below as well as many other cybersecurity jobs:
Penetration Testers
Vulnerability Assessment Auditors
Risk Assessment Administrators
Network Administrators
Application Security Engineers
Cyber Forensic Investigators/ Analyst and SOC Analyst
System Administrators/Engineers
Firewall Administrators and Network Managers/IT Managers
ECIH is a specialist-level program that caters to mid-level to high-level cybersecurity professionals. In order to increase your chances of success, it is recommended that you have at least 1 year of experience in the cybersecurity domain.
ECIH members are ambitious security professionals who work in Fortune 500 organizations globally.
Add the Mobile Security Tool Kit to Your Training
For the past several years we have offered our training on a mobile device so that you can take your training with you and eliminate the need to stream the videos. This device is the next generation mobile device. This is a fully loaded pen test tool kit comes equipped with a custom Linux Hacking OS and, wait for it… we can load your course (or 2) onto the device. In the sage words of Ray Bradbury, "Something Wicked This Way Comes."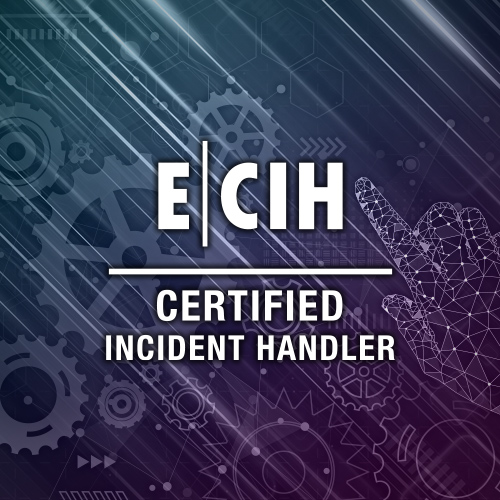 Build Your On-Demand Training Package
Or choose a training option:
Still have questions?
Mon – Fri / 8:00 AM – 5:00 PM
Email Us

Join us for a free half-day of Certified Incident Handler (ECIH) through our new First Look Cybersecurity Learning Events!


Train now, pay later with Affirm.