Certified Blockchain Professional | CBP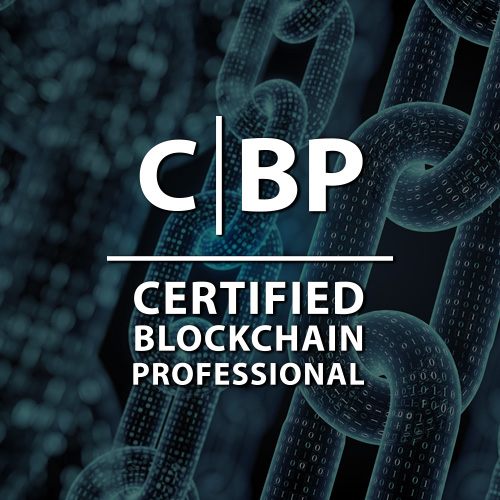 Introducing the first Blockchain Professional Training and Blockchain Certification Program to set the global standard in Blockchain Technology. The Certified Blockchain Professional (CBP) Course was developed to help professionals gain the knowledge they need in Blockchain technology to understand its impact on business and beyond.
The Certified Blockchain Professional is fully vendor-agnostic and practical, focusing on the current state of blockchain technology as well as its future potential. The Certified Blockchain Professional course digs deep into the main characteristics and features of the distributed ledger technology (DLT) as well as introduces Blockchain's new 3S (Secure-Scalable-Sustainable) proprietary framework. Students will also get a deep understanding of blockchain technology and mining of cryptocurrency.
The Certified Blockchain Professional course begins with the technical foundations of blockchain, such as distributed and decentralized systems, cryptography, and mining. Students will then learn how to develop applications using Ethereum, a decentralized virtual machine. Additionally, students will explore different blockchain enterprise applications such as Hyperledger, introduced by the Linux Foundation and widely used by IBM. Most importantly, the course will cover multiple blockchain implementation concepts by immersing students into sustainable and scalable blockchain development, the cornerstone of a decentralization strategy.

Course Outline
Lesson 1 Introduction to Blockchain Technology
Lesson 2 Crypto Assets
Lesson 3 Blockchain Mining
Lesson 4 Bitcoin
Lesson 5 Sustainable Blockchain
Lesson 6 Open Source Blockchain Frameworks
Lesson 7 Ethereum
Lesson 8 Decentralized Applications (DApps)
Lesson 9 AI and Blockchain
Lesson 10 Impact on Industry
Lesson 11 Industry Use Cases
Lesson 12 IoT and Blockchain (BoT)
Lesson 13 Blockchain Project Implementation
Lesson 14 Scalable Blockchain
Lesson 15 Security in Blockchain
Lesson 16  Blockchain as a Service
Lesson 17 Open Research Problems in Blockchain
We designed the CBP Course so that full-stack developers get a comprehensive and complete understanding of blockchain from the fundamentals of how the technology works to advanced application and implementation strategies.
Who should attend?
The CBP program is specifically tailored to full-stack developers.


Train now, pay later with Affirm.
Still have questions?
Fill out the form below and a representative will reach out to you shortly.