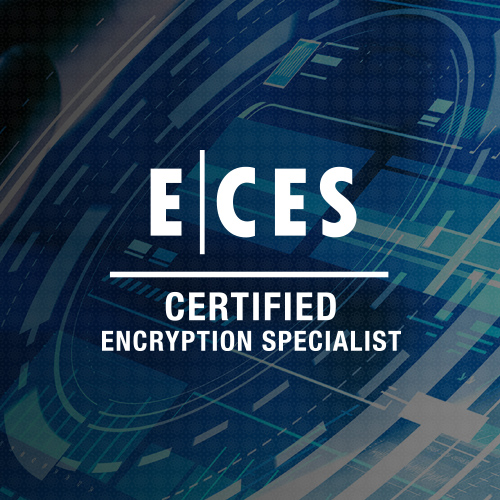 Certified Encryption Specialist (ECES) Course
iLearn Self-Paced Base package includes:
Instructor led training modules (1 year access)
Official e-courseware (1 year access)
iLabs access (6 Months Access)
Certificate of Completion for each course
Exam Voucher
To Customize your package click on Select Options,
if you are interested but still have questions, click Contact Us.
The EC-Council Certified Encryption Specialist (ECES) program introduces professionals and students to the field of cryptography. The participants will learn the foundations of modern symmetric and key cryptography including the details of algorithms such as Feistel Networks, DES, and AES.
Other topics introduced:
Overview of other algorithms such as Blowfish, Twofish, and Skipjack
Hashing algorithms including MD5, MD6, SHA, Gost, RIPMD 256 and others.
Asymmetric cryptography including thorough descriptions of RSA, Elgamal, Elliptic Curve, and DSA.
Significant concepts such as diffusion, confusion, and Kerkchoff's principle.
Participants will also be provided a practical application of the following:
How to set up a VPN
Encrypt a drive
Hands-on experience with steganography
Hands on experience in cryptographic algorithms ranging from classic ciphers like Caesar cipher to modern day algorithms such as AES and RSA.