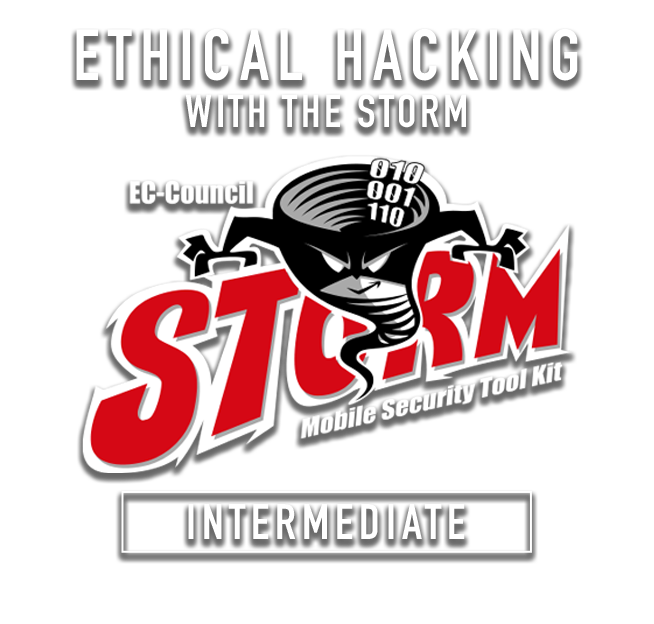 Talk to a Career Counselor
Fill out the form and an expert training consultant will contact you to help you get all your questions answered.
STORM Mobile Security Toolkit: Ethical Hacking Intermediate Skills
Take the Storm hacking to the next level! In this course you will learn how to deploy more elite skills, you will learn how to assess the Industrial Control System (ICS) ModBus protocol, and read and write to the registers and coils which can modify the behavior of the controller. You will learn how to integrate the Storm device with AI and perform image recognition. Additionally, you will learn techniques of intrusion analysis and malware forensics. Finally, you will learn how to use your Storm device as a cyber weapon with the concept of deception and much more.
On
Demand
On Demand Instructor-led Training Videos

Official E-Courseware

Online CyberQ Labs

Certificate of Completion

One Additional Certification Course Included

Live Instructor-led Training (in-person or online)

Online Exam Prep (CEH, CHFI, CND Only)

Certification Exam

CodeRed Continuing Education Video Subscription

*Financing Available (US only)
Unlimited On Demand
(Club)
On Demand Instructor-led Training Videos

Official E-Courseware

Online CyberQ Labs

Certificate of Completion

Live Instructor-led Training (in-person or online)*

Online Exam Prep (CEH, CHFI, CND Only)

Certification Exam

Unlimited Additional Certification Course Included

CodeRed Continuing Education Video Subscription

*Financing Available (US only)
*Upgrade any course to live training for $499
About the STORM: Intermediate Skills Workshop